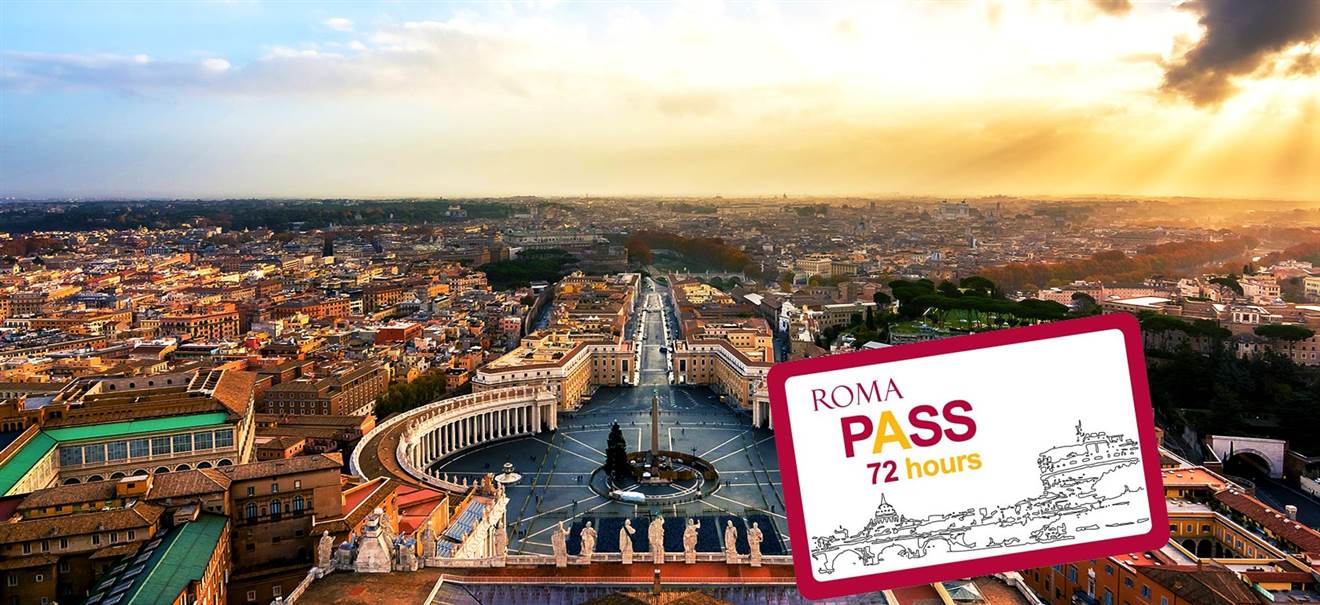 Roma Pass 72 Hours (Optional St. Peter's Skip the line tickets)
To product
ROMA PASS
Roma Pass is the capital's special tourist-cultural card that enables tourists and interested local residents, the opportunity to benefit from various discounts and services that make it easier and cheaper to enjoy the splendours of Rome.
Features of the pass:
Free entry to the first 2 visited museums and/or archaeological sites of your choice. Free admission includes the exhibition held in the museum.
Free use of the city's public transport network. Valid until midnight of the third day inclusive that of the first validation for ATAC public transport (bus, metro and railway lines Roma -Lido, Roma Flaminio Piazza del Popolo-Viterbo, Roma-Giardinetti), within the territory of the Municipality of Rome. All special connections to Atac, the railway lines Trenitalia FR, the connection Tiburtina/Termini/Fiumicino airport, the connection Trenitalia "No stop" Roma Termini- Fiumicino Aeroporto (Leonardo Express) and all connections to and from Fiumicino and Ciampino Aeroporto are not included.
Discounted tickets to exhibitions, events and other collaborating operators and businesses.
You can skip the long waiting queues at the museums!
Important: To book "Roma Bundle" you can select Adult and child option, for the Roma Pass you can only choose Adult option
In the kit: 
The Roma Pass card: the card used to visit museums / archaeological sites and on the public transport system as described above;
Roma MAP: A map featuring all the Tourist Information Points, Metro stations, museums and other sites of interest (complete with addresses, tel. no's opening times and nearest bus stops and metro stations);
Roma Pass Guide: the list of under agreement museums/sites, and the list of all the partners of the Roma Pass which offer discounts to card holders;
Order process: 
Select the pick-up date.
You will receive a voucher with a booking code within 24 hours after the booking. 
With the code you can pick up the Roma Pass at the following locations:
PIT Castel S. Angelo, Piazza Pia (next to the gardens of Castel Sant'Angelo),  8.30am - 18.00pm till 24/03, 9.30am - 7.00pm till 27/10.
PIT Ciampino, Aeroporto G.B.Pastine - External area International Arrivals. 8.30am - 6.00pm.
PIT Cinque Lune, Piazza delle Cinque Lune (Piazza Navona). 9.30am - 7.00pm.
PIT Fiumicino, Aeroporto Leonardo Da Vinci - International Arrivals - Terminal T3. 8.00am - 8.45pm.
PIT Fori Imperiali, Visitor Center Via dei Fori Imperiali. 01 January-30 June and 01 September-31 December: 9.30am – 7.00pm – 01 July-31 August: 9.30am – 8.00 pm.
PIT Minghetti, Via Marco Minghetti (corner to Via del Corso). 9.30am - 7.00pm.
PIT Sonnino, Piazza Sidney Sonnino (Trastevere). 10.30am - 8.00pm.
PIT Termini, Stazione Termini - Via Giovanni Giolitti, 34, platform 24. 8.00am - 6.45pm.
How to use it:
The card is valid 72 hours since its first validation and not longer 3 solar days, and is activated at the time of the first entry to the museums/sites, and/or at the first journey on public transport.

Please note that most museums generally are closed on Mondays (with the exception of the Colosseum and the Baths of Caracalla). Almost all the museums normally are closed on December 25, January 1 and May 1 too. We advise you to check in advance.

Important information:
The capacity of the Colosseum is 3.000 people inside the monument. To be able to distribute the amount of people inside during the day you need to select your timeslot. 

In your confirmation email and on your voucher you can read how to reserve your timeslot. 
The museums you can visit with the card:
1. National Museum of Folk Arts and Traditions
2. Coliseum – Palatine – Roman Forum - always guaranteed, upon reservation
3. National Roman Museum – Crypta Balbi
4. National Roman Museum – Altemps Palace
5. National Roman Museum - Palazzo Massimo
6. National Roman Museum - Baths of Diocletian
7.Musei Capitolini
8.Centrale Montemartini
9.Mercati di Traiano
10.Museo dell'Ara Pacis
11.Museo di scultura antica Giovanni Barracco
12.Museo della Civiltà Romana
13.Museo delle Mura
14.Museo di Casal de' Pazzi
15.Villa, Circo di Massenzio e Mausoleo di Romolo
16.Museo della Repubblica Romana e della Memoria Garibaldina
17.Museo di Roma
18.Museo Napoleonico
19.Galleria d'Arte Moderna
20.MACRO + MACRO Testaccio
21.Museo Carlo Bilotti – Aranciera di Villa Borghese
22.Museo Pietro Canonica e Villa Borghese
23.Museo di Roma in Trastevere
24.Musei di Villa Torlonia
25.Planetario e Museo Astronomico
26.Museo Civico di Zoologia
27. Appian Way - Mausoleum of Caecilia Metella and Castrum Caetani
28. Appian Way - Baths of Caracalla
29. Appian Way - Villa of the Quintilii
30. National Etruscan Museum in Villa Giulia
31. National Museum of Oriental Art
32. Museum of the Early Middle Ages
33. National Prehistoric Ethnographic Museum "Luigi Pigorini"
34. Ostia Antica
35. National Gallery of Modern Art
36. National Gallery of Ancient Art - Palazzo Barberini
37. National Gallery of Ancient Art - Palazzo Corsini
38. National Museum of Palazzo Venezia
39. Spada Gallery
40. National Museum of Castel Sant'Angelo
41. National Museum of Musical Instruments

42. Galleria Borghese
43. Visit of the archaeological site of Circo Massimo 
44. Forum Pass Super (Fori Imperiali, Foro Romano, Palatino e Ville)
45. Circo Massimo Experience and Carcalla 4d


Roma Bundle
The Roma Bundle makes sure that your visit to Rome includes the best of Rome: the Roma Pass and the absolute highlights of the Vatican.
Important: To book "Roma Bundle" you can select Adult and child option, for the Roma Pass you can only choose Adult option


What is included in the Roma Bundle:
St. Peter´s Basilica Skip the line tickets + Audioguide*
Vatican City Audioguide: a must have audioguide of the biggest highlights of the Vatican like St Peters Basilica, St Peters Dome, Tomb of the Pope and much more!
Rome City Audioguide which includes the Colosseum, Borghese Gallery, Spanish Steps, Castle Sant Angelo, Trevi Fountain and much more!
Vatican Discount Pass with discounts of 20% to the Vatican Gardens, Vatican Museum, Sistine Chapel, Papal Audience, Underground Catacombs, St. Peter´s Prison, Hop on Hop off Bus of ORP (Official Vatican Tourism Agency), the audioguide for the Vatican Museum & Sistine Chapel and Airport Transfers from Fiumicino and Ciampino
* Available in Italian, English, Spanish, Portuguese, French, German, Russian, Polish, Japanese and Chinese
How does it work?
Your visit to the St. Peter´s Basilica will be automatically scheduled the day after (at 15.00h) you pick up the Roma Pass. Your tickets will be sent in a separate email with the Vatican Audioguide and the Vatican Discount Pass
What is important to know?
The Roma Bundle is not included in the Roma Pass. When you want to purchase this Pass and you want to have the Roma Pass you need to select both to your shopping cart.
The audioguide of the Vatican Museum is not included. You can purchase the Vatican Museum & Sistine Chapel audioguide in the Vatican Discount Pass.
The Vatican Discount Pass works online. After your purchase you get a discount code and a link to the inclusions of the Vatican Discount Pass. You can make your reservations only online.
The St. Peter itself is free. By ordering the Vatican Plus Pass you have skip the line entrance to the St. Peter (till the security control) which can save you 2 hours. You will also get an audioguide. The normal price of this product is 19,50 euro. You can find more information here.