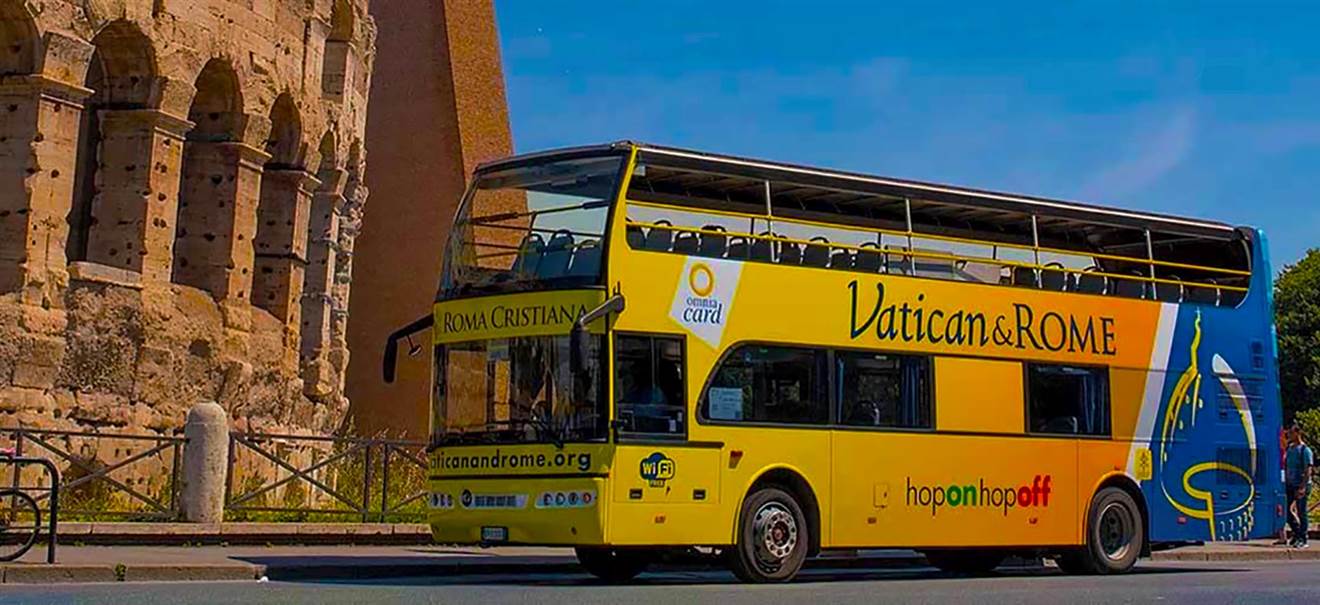 Rome Hop on Hop off Bus (ORP) - Daily Open Bus
To product
Explore the many beautiful sights Rome has to offer with the unique Hop on Hop off Bus! Visit the Colosseum, the Spanish Steps, Pantheon, the Trevi Fountain easily by hopping on and off!
Feel free to organise your days as you like! With the Hop on Hop off Bus it is possible to reach all the famous attractions of Rome in a comfortable way. During this day you can hop on and hop off as many times as you want. Enjoy magnificent panoramic views and visit historical monuments such as the Colosseum, the Trevi Fountain, St. Peter's Basilica, the Spanish Steps and many more.
Schedule details:
Available dates: every day
First departure: 09:00am
Last departure: 07:00pm (June-September) 05:00pm (October-May)
Frequency: from 10 to 20 minutes
Audio guide: included
Audio guide: English - Italian - German - French - Spanish - Russian - Polish - Portuguese
Free wifi on the bus!
How does it work?
Select the duration of your ticket: 1 day, 24 hours, 48 hours or 72 hours. The ticket is valid from the moment you start using it. The 1 day card is valid for the calendar day you use it and it is valid from the moment you start using it till 7 PM that day. The 24 hours, 48 hours and 72 hours tickets are valid from the moment you start using them for the amount of hours you selected (e.g. 24 hours later). 
Click here to check all the stops of the Bus on the Rome map or read them here:
Lungo Tevere Tor di Nona, 7
San Giovanni dei Fiorentini
Santa Agnese in Agone - Piazza Navona
Area Sacra Torre Argentina
Santi Apostoli
Santa Maria degli Angeli
Stazione Termini (Central Station)
Santa Maria Maggiore
San Giovanni Laterano
Colosseum
Circo Massimo
Teatro Marcello
Santa Maria in Aracoeli
Largo Argentina
St. Peter/Vatican City 
When you get on board you will be handed the map of Rome so you can see where to hop off for the famous Rome sights. 
Panoramic tour option
You can also chose a Panoramic tour option without the possibility to hop on and hop off on the stops. This tour includes one full circle, and departs from the Stop number 2 - San Giovanni dei Fiorentini.