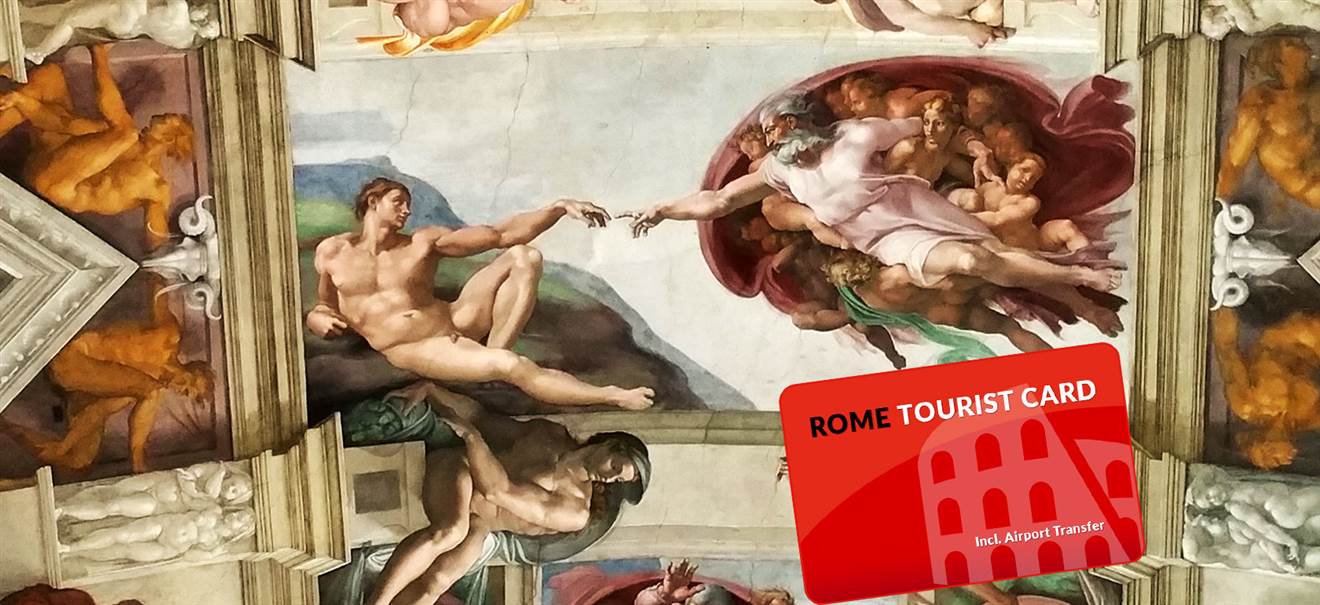 Rome Tourist Card (including Sistine Chapel)
To product

100% Mobile
Show tickets on your phone

100% mobile! The Rome tourist card is the first tourist card in the world that you don´t have to pick up and can be scanned on the phone at all attractions/museums!
The Rome tourist card is a great option for those who wish to enjoy all of Rome's highlights, without the inconvenience of booking several tickets and having to collect the card.
The ultra-convenient Rome Tourist Card includes skip-the-line entrance to the city's most famous destinations, airport transfer, and discounts to countless further attractions. Even better, you receive everything by email so that you don't waste time picking it up when you arrive.
It means that it's easier than ever to maximize your precious time in Rome by organizing everything in advance. Simply order your Rome Tourist Card(s) online  and you're ready for all that this wonderful city has to offer:
What's included?
 St. Peter´s Basilica. The ticket includes an audioguide in several languages. This audioguide should be downloaded on your phone. You will receive the instructions in a separate e-mail with your tickets.
Skip the line access to the magnificent Vatican Museum. So many artefacts that will blow you away! Visit the Spiral Staircase, Raphael´s Transfiguration or Pinecone Courtyard.
Access to the Sistine Chapel, the masterpiece of Michelangelo!
  20% discount on your Colosseum ticket + Audioguide for Colosseum (Includes also tickets for Palatino and Roman Forum and Pantheon audioguide) or Colosseum Guided Tour
 1 way airport transfer from Ciampino or Fiumicino Airport
  1 day Hop-On Hop-Off Bus ticket to get to know the city.
  20% discount on museums like Borghese Gallery and Castel Sant Angelo and more!)
20% discount on cruises like the Hop-On Hop-Off Cruise and Rome Dinner Cruise
 20% discount on excursions like an excursion to Venice, Florence, Capri Island, Pompei and more!
What are the benefits?
• Skip-the-line tickets for one of Rome's busiest attractions - saving you valuable time on your trip!
• Includes airport transfer (1-way) – have a stress-free journey into the city centre
• Everything online! You don´t have to exchange or pick-up your Tourist Card on arrival.
• No time pressure! The card does not have a time limit of 24 or 48hrs like other City Passes or Cards. Visit the museums and attractions when you want and at your own pace.
• 20% discounts on top museums, attractions, cruises, tours, and excursions.
  How does it work:
Step 1. Make your booking. Please select your arrival date and specify which airport you are flying to.
Step 2. After the payment, you will be asked about your preferred visit times for the attractions. Please fill in all the required information, so we could make reservations for you.
Step 3. After your booking, you will receive your tickets by e-mail. What is more, you will get a 20% discount code for your additional bookings.
Step 4. Everything is ready! Now you can enjoy some of the best attractions, without having to stay on the long waiting lines.
Everything you need in Rome! Don´t have to print it, show on your mobile!
Additional information:
• The Rome Tourist Card does not include public transportation in the city, but you can easily buy the Metro Card in stations and hotels or buy it with 20% discount on our discount page.
• You have the possibility to book tickets for the Hop on Hop off Bus for some extra days with 20% discount. 
• Once you have made your booking, you will be provided with a discount code. With this code, you can get a 20% discount on your bookings for Rome's other top museums and attractions. This discount is only available for bookings with Ticketbar.
• During the booking process, you have the option to add the tickets for the Colosseum with 20% discount.  
Bus transfer service frequency:
About every 30 minutes during the day, less frequent at night. The service is geared around flight departures and arrivals. You can hop on at the bus at any convenient time in the timetable. 
Timetable:
  Get a 20% discount for Rome's best attractions
This email also includes your discount code of 20% that you can use to buy your online skip the line ticket for this complete package of discounts: 
Museums
Colosseum

Colosseum + Videoguide (check availability here)
Colosseum Guided Tour (check availability here)
Borghese Gallery
National Roman Museum
Thermea of Caracalla
Castell Sant Angelo
St Peter's Prison
Guided tours
Rome City Walking tour (Pantheon, Trevi fountain, Baroque Rome)
Papal Audience with Pope Francis
Cupola tour
Underground Catacombs tour
Espresso & Gelato tour
Tasting tour in Rome
Rome by bike
Via Appia Bike tour
Bus tour & dinner
Cruises
Hop on Hop off cruise
Rome dinner cruise
Wine Bar in Rome cruise
Excursions
Venice excursion from Rome
Florence excursion from Rome
Capri island from Rome
Tivoli and its Villa's from Rome
Assisi & St. Francis Basilica
Get the most of your Rome trip and book the Rome Tourist Card!